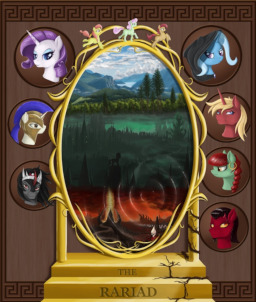 Source
After sacrificing her life for another, Trixie was meant to receive admission into the shining golden fields and silver city of Elysium. Instead, she was waylaid while crossing the river of Oblivion by Rarity Belle, her promised after-life wrenched from her hooves, tossed in front of a pair of unsympathetic gods, and summarily dismissed. Now trapped in the fabled City of the Dead of Tartarus, Trixie will need all her wits and skills to find a way to escape.
Even greater trials await Rarity. Mind fractured by the nature of her death at the hooves of a fallen goddess, and then eroded further by the river's waters, she wages a war within as well as without. To return home she will have to first reforge herself.
Former enemies, they will need to learn reliance on each other to cross the myriad worlds, from Tartarus, to Gaea, and realms between and beyond, in order to return home.
A Myths and Birthrights side story.
Edited by Honey Mead
Cover Art by Nalesia
Chapters (22)