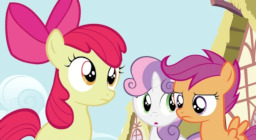 It began as a normal day in Ponyville on the last day of the week, but it quickly changes into drama when a young filly is foalnapped during broad daylight and another one is left injured in the hospital.
Two of the Cutie Mark Crusaders witness the tail end of the crime and become unsure how they should feel about the whole thing, especially when considering who the foalnapped filly is. Should they do something to help or just let the adult ponies handle this?
---
This story is part of The Equestria Tales series.
The first story in "The story of Tango and Snow Heart" arc
Chapters (20)