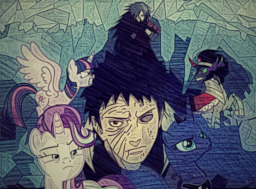 Yadda yadda yadda, You've heard of our kind; The Displaced. Becoming a small trend actually, I've been sent to Equestria because I cosplayed as Obito Uchiha from Naruto. Yeah, you're probably bored at this rate.
I'm sent to Equestria with all of Obito's memories, abilities and even his appearance as well. But when you've managed to piss off the Royal Sisters, well.. you know you're in a pickle, especially when you're imprisoned in the crystal cave for who knows long?
Luckily, that seal in my prison is about to break. But I don't have any possible plans except.. whatever I could think of.
---
yeah yeah yeah, been reading too much displaced, I know.
Inspired by these two things. The Price Of Power by kingrulerword.
And My Little Pony: An Uchiha's Wrath by Lord Nopony.
If you enjoy please don't hit the like and give comments as to how this story sucks.
Chapters (5)