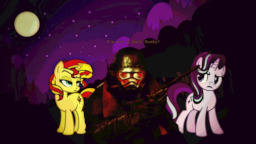 An elite trained veteran ranger, served the NCR for 20 years, gave up and wandered the land of America. He saw Vegas liberated, he watched Los Angeles fall, he helped the messiah of Washington, he even irittated the Institute before going into hiding.
Though the wasteland never leaves him, this time however, they finally did, in a form of being transported to Equestria and trying to hide and find peace in his living. Will he receive his very needed wish?
---
This is a rewrite of A War Inside You, and is based on my Alternate Start Character in Fallout: New Vegas. His supposed gear will be stated in the story, however it's no self-insert story, rather an OC story.
HEAVY WARNING: I will use mods in this story. As opposed to some vanilla stuff, don't worry, nothing really complicated.
This is in no way inspired or taken on by Shadow Step's A Second Chance! I have not read that story (yet).
Chapters (1)