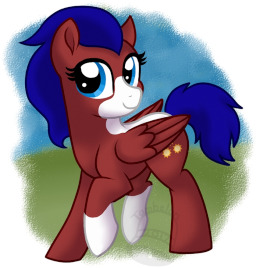 Source
This story is a sequel to The Brushie chase.
---
Foxy Stripes is on the outside a sunny mare, who likes bringing sunshine to those who are down, lift their spirit and chase those gloomy clouds away. She's a caring mother and a supportive friend who will go out of her way to help.
Yet she carries a burden not many get to see, a pain she carefully hides, preconception that constantly torments her.
In the end, sometimes the sunny ones need help chasing those dark clouds away.
---
Written in memory of my sister who passed away in summer 2013, who served as the inspiration for my pegasi sisters, Dew Doe and Foxy Stripes.
---
This story is part of The Equestria Tales series
Marked as a sequel to the Brushie Chase as it happens roughly during the same time period and touches on Dew Doe's little (yet big) sister Foxy Stripes.
Cover made by Tambelon
Chapters (1)