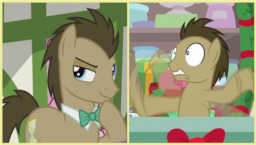 This story is a sequel to The Time Keeper of Ponyville.
---
For a long time, Time Turner has been baffled by his fellow citizens of Ponyville who kept insisting on calling him Doctor Whooves, no matter how many times he's corrected them. Those instances finally died down after he got together with Derpy, but now he's finally about to meet the very pony responsible for this confusion.
However, he may just end up even more confused than ever.
---
This story is part of The Equestria Tales series
Marked as a sequel to the Time Keeper of Ponyville as it kind of follows up on Timer Turner.
Story happens shortly after Possession in the Crystal Empire.
Chapters (1)