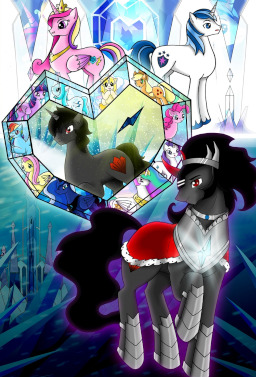 When the sky over the Crystal Empire is split open by a dark tear, Celestia, Cadance, Luna and Twilight must figure out a way to stop it. But in order to defeat darkness, sometimes you NEED darkness. And that leaves only one option; Sombra.
With his powers under lock down, and a growing connection to the strange darkness, can Sombra learn what it really takes to earn an empires respect, or will he abandon them to the darkness from another world?
UPDATED: Chapter one re-formatted, extra bits added, general tidying.
Edited by Dream Seeker!
Further helped into readableness by Hail King Sombra!
Chapters (14)