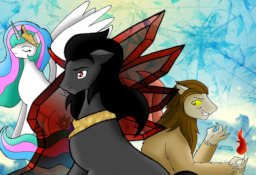 Tirek's brother Scorpan never really accepted his brother could wander so far off the good path. Deluded and crazed from missing him, he has one simple goal: break his brother out. To do that, he will need magic beyond anything he's seen before. DARK magic.
With the discovery that Sombra is not only the lone survivor of the Umbrum race, but may not have been completely destroyed, he sets out to locate what remains of Sombra's horn. From this he is able ressurect the former tyrant and keep him captive. Day by day, draining his magic. But thats just the start. He has other plans for the Umbrum pony's magic abilities...
When a passing bird finds its way into the cave, it delivers this news to Fluttershy. On Celestia's orders she and the others go to find Sombra and try stop Scorpan's plans.
But the Sombra they bring back to Canterlot isnt the former foe they once knew. Lost and afraid, his mind fractured by Scorpan's torture, Sombra seems out of thier reach. Now they have to race against an incoming doom to try and heal the broken King before it reaches Canterlot.
But how will things fare when Discord gets invovled? Can his unorthodox methods break Sombra's nightmares into dust and get him on his feet, or will the unicorn finally lose hope?
Chapters (20)