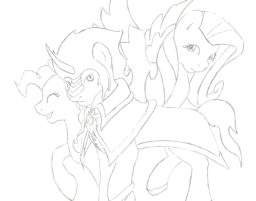 Source
With his dark past heavy on his mind, Sombra is put to the test as he begins a reformation process. Though his thoughts are clearer and no longer crowded with the influence of dark magic, his heart is none the lighter. Will Pinkie's motto of "Giggle at the Ghosties" be enough to turn a tyrant good? Or Will Sombra succumb to the power of dark magic once more? But more importantly, will the reason for his tyrannical rule finally come to light?
Inspired by a series of one shots and the very popular "Feeling Pinkie Mean", though with a more serious undertone.
Warning: comments section on the last chapter contain some spoilers.
Chapters (48)