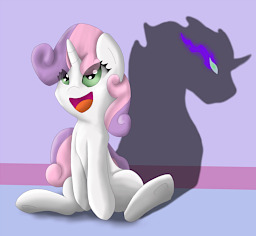 A three arced story that begins slowly as partially Comedy and Slice of life and rotates more towards Adventure and Dark in later chapters.
Some school fillies have to deal with school crushes. Others with bullies. Sometimes they have to deal with both. But no filly has ever had to deal with an Evil Tyrant being bound to their shadow and have the power to control their every action. This, of course, seems to be no big deal for Sweetie Belle who seems to even enjoy the stallion's company. Though the feelings aren't mutual. The small filly reminds the old king too much of a filly he used to know... Though it's strange the only place he'd seen her before are in these strange dreams of his. Recollections of a past he can't remember.
Perhaps Sweetie Belle will awake in him that version of himself before he was a Tyrant. Before he was labeled evil. A time from when he was a father. Perhaps she will help him forgive.
First featured on 9/4/2014!
The cover art was sketched by me and colored by the very talented Midnight Sonare
Chapters (29)