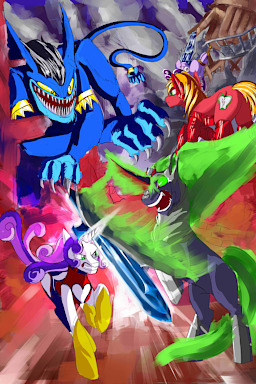 In Equestria's not-distant-enough future, while the rest of the kingdom recovers from the ravages of war, the city of Manehattan has become a cesspool of crime and corruption. While Mayor Orange works tirelessly to reclaim the city from the gangs and syndicates, the crimelord known only as the Shadow King controls the criminal underworld.
When even the most honest citizens are forced to resort to crime in order to survive, can there be any hope for Manehattan's future? Orphaned teenagers Pound and Pumpkin Cake doubt it, no matter what their guardians try to tell them.
This may change, however, when a beautiful and mysterious unicorn warrior emerges to face the Shadow King's army of thugs, monsters and mutants. With a shining crystal blade to pierce through the darkness, and a seemingly limitless supply of talents (and costumes), the Warrior of Love, Sweetie Honey, may yet shine a light upon Manehattan's future.
(Cover image by Tofutiles)
Chapters (1)