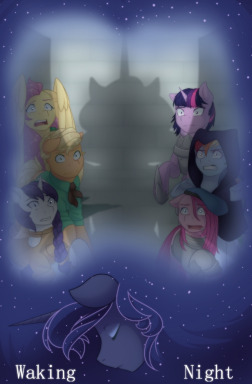 Source
1,000 years ago, the shadow demon Eclipse possessed Princess Luna in a bid to seize control of both the sun and the moon. Eclipse was banished when Princess Celestia wielded the Elements of Harmony, but Luna fell into an eternal coma.
Waking Night, the festival of dreams, is held in honor of Princess Luna and the anniversary of Eclipse's banishment. In the dark corners of Equestria, though, sinister forces conspire to make their move and free Eclipse from its prison.
When the forces of evil strike, six mares from vastly different walks of life find themselves thrown into a quest to retrieve the Elements of Harmony, the only magic strong enough to end the threat of Eclipse and its followers once and for all. In order to find the Elements, they will have to venture deep into the secret resting place of Princess Luna, but Eclipse also seeks the sleeping Princess of the Night.
Chronologically, this is the series premier of the Eclipse-verse series.
Cover art by My Little Sheepy
Chapters (16)