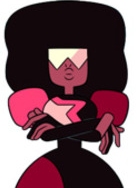 Source
I am...Well was a normal twenty one year old trying to enjoy a convention...Kinda hard when your a white girl cosplaying as Garnet-
What do they want you to go around in blackface to look the part?!
Shush! Now after buying a wicked awesome visor from a weird merchant-
You should have foresaw this considering how much fanfiction you read.
SHUT UP!
.....
Are you going to be quiet now?
....
*Sigh* Now I'm stuck in My Little Fricking Pony with all the power, ability's and looks of Garnet, including my own very annoying mental Ruby and Sapphire. I can't even tell if we're three people or just one, I just want to go home!
Chapters (2)