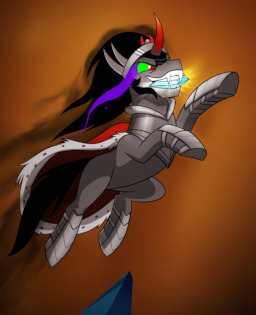 Source
Sombra never realized this would happen.
Usually a villain is suppose to be defeated, right?
So, why did he, well...win?
Even he was shocked to see the crystal heart in his hooves. Never in a thousand or so years did he think he would pull this off; that he would actually...win.
So, what will he do now? Just rule over everyone and enslave all of pony kind? Or Perhaps kill the princess and mind control that purple unicorn and her friends? Or maybe have some common sense and figure out just how he will deal with all of this in the long run? With all these questions, he knows one thing for sure.
This is going to be very awkward.
Chapters (7)