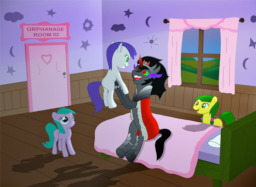 After getting blasted by a wave of happiness, Sombra wakes up months later with a completely different personality and is forced to live with the memories of what he did and what he was. However, with a little patience, and a lot of help, maybe he can change that, and become something a bit better.
Story inspired by the coverart, courtesy the lovely GigaSparkle on DeviantArt.
Fun Fact: This is the first story (and currently one of only three) on this website tagged with Redheart and Sombra.
Chapters (28)