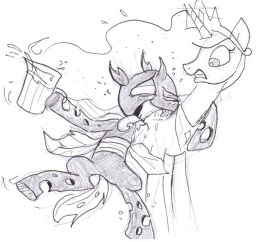 Source
This story is a sequel to Celestiphobia
---
It's only been a day since the treaty was passed, and Stan still hates the ground-walkers and fliers and magicians. So his friend, Carl, decides to cheer him up by making him take part in his favorite activity. Getting drunk.
What a horrible mistake that was, since it gave Stan beer goggles for a certain white alicorn, and has him running around causing mischief at every turn.
Carl can only hope he can survive the night.
Now with deleted scenes!
Author's words with some form of intelligence: Now with 100% more editing by Alticron
Chapters (23)