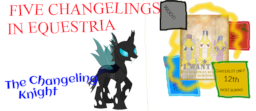 Mole Cricket, former commander of the changeling swarm, finds himself stranded in Equestria, with no idea where the rest of his kind may be... and no intention of reuniting with the swarm, since the Queen would blame her failure in Canterlot upon him. After encountering a group of youngsters who, instead of seeing a monster, see a hero, the changeling decides to dedicate himself to an impossible goal...
To become the first changeling to attain knighthood.
Cover Art by SlashOpenTheSky
The first of five new stories for the rebooted Cricket-Verse... now renamed the Nonsense-verse.
Chapters (5)