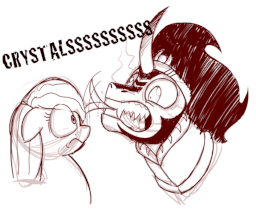 Source
Now with a dramatic reading by AShadowOfCygnus!
---
Sombra.
The name that makes ponies everywhere tremble.
The name that is the definition of cruelty.
The name that strikes fear into the hearts of all that hear it.
And that's really all that anypony can say. Ponies everywhere wonder what really goes on inside the head of the legendary crystal tyrant. What dreams and thoughts of malice could possibly sustain such cruelty?
What actually goes on inside Sombra's head might surprise everypony...
---
A big thanks to the amazing Mickeymonster for letting me use the cover art. Check it out here!
Chapters (1)