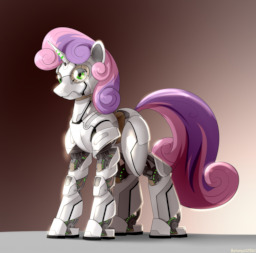 Source
Sweetie Belle's life always contained a fair amount of frustration. From a lack of magical ability to her flank's stubborn refusal to develop a cutie mark, Sweetie has many a reason to envy her classmates. But her friends share many of those problems, making them somewhat bearable.
But at a certain fateful wedding, the changelings seem less interested in putting her in a pod, and more interested in attacking her outright. More evidence starts to appear, and she starts to realize something about herself that she would much rather forget.
---
While this story contains several adventure-like stories, especially in the beginning, it will mostly focus on slice-of-life material.
Chapters (10)