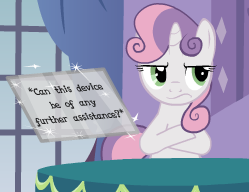 The sequel to this story: Sweetie Belle and the Quest for Knowledge is now available!
---
When Sweetie Belle finds a mysterious artifact of a now lost civilization, how will she come to terms with the wealth of knowledge it provides? It says it can be ignored, it says it will never try to influence her, but can an artifact of such power really be so harmless?
---
Book I of III
---
Prologue and Chapter 1: Thanks to TheOtherSideOfFluttershy for pre-reading and editing.
The whole story: Thanks to RaylanKrios for editing.
Chapter 4: Thanks to AuthorGenesis for editing.
Epilogue:
Thanks to Malefactory for editing.
Chapters (16)