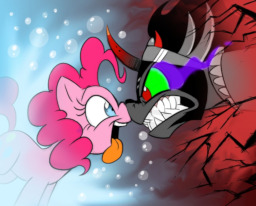 Source
When Sombra, ex-ruler of the Crystal Empire, is discovered alive and well, Twilight has her hooves full keeping the tyrannical king in check. Instead of the original plan of throwing him in a dungeon or banishing him to Tartarus, Celestia decides to go with the plan that worked out well enough for Discord.
To reform Sombra.
Pinkie takes the job, and gets right to work in helping Sombra become a better pony. Will Sombra finally change from his old, wicked ways and reform? Or will he instead strangle the annoying, pink menace known as Pinkie Pie?
Thanks to the awesomely talented Mickeymonster for letting me use his art! Check him out for even more spectacular artwork!
Chapters (11)