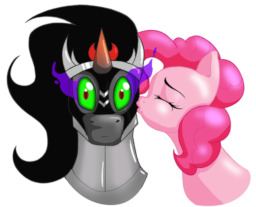 Hearts and Hooves Day; a holiday reserved for ponies to express their love for another, whether it be with a bouquet a of roses or just a simple box of chocolates. However, for the former King of the Crystal Empire, it's only a source of annoyance and rage.
But, for Pinkie Pie(who has been tasked to reform Sombra), it's a way for her to finally show just how much she loves to make everypony happy. Will Pinkie be able to pull Sombra out of his hate for the holiday?
Coverart by: Kelisah on DeviantArt
This is a side story to "The Not-So-Normal Adventures of King Sombra and Pinkie Pie". No, it does not need to be read in order for this story to make sense.
Comments are appreciated, whether they be critiques or compliments~
Also, I'd like to give a special thanks to all my faithful readers and commenters in my previous stories with this pairing. You've inspired me to be a better writer and I wouldn't have nearly as much writings if it weren't for all of you. Have a very loving and caring Hearts and Hooves Day, everypony~
Chapters (1)