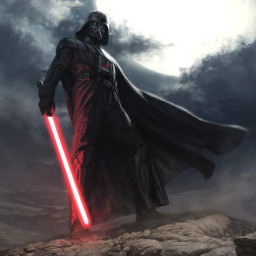 Darth Vader is one of the most despicable forces in the galaxy. Once a powerful and respected Jedi Knight, he betrayed the Galactic Republic and Jedi Order for the dark side of the Force. The newly christened Sith Lord was apprenticed to Darth Sidious and quickly became a master of the dark side. Vader was soon the scourge of the Jedi, continuing the Great Jedi Purge by slaughtering all remaining Jedi.
An extension of Emperor Palpatine's will, the Dark Lord was constantly on the move, traveling throughout the galaxy to defeat rebel uprisings and kill any surviving Jedi. This mission brings him to the edge of the Outer Rim into the Unknown Region of the galaxy, in an unknown star system. High above an unnamed planet he duels with one of the last remaining Jedi in the galaxy in a starship battle. But during the battle his ship is damaged, and he crash-lands on the mysterious planet.
With his connections to the Galactic Empire severed, Vader must find a way out the land known as Equestria, inhabited by the strange creatures known as ponies. That, or he could take it over.
Chapters (12)