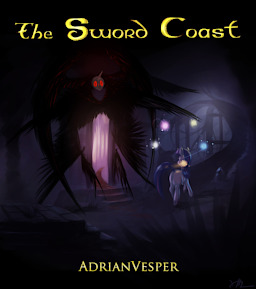 Source
When a dark enemy begins hunting the young wizard Twilight Sparkle, the walls of the fortress library of Candlekeep cannot protect her. Not even her mentor, the archmage Star Swirl the Bearded, can keep her safe. With a price on her head and the shadow of death on her heels, her only hope for salvation is the Magic of Friendship. Perhaps, with powerful allies at her side, she can find answers and uncover the truth about her destiny.
(This story is inspired by the Baldur's Gate CRPG series by Bioware, but you do not have to be familiar with BG to understand its events)
Featured on Equestria Daily
Cover by Bluest Ayemel
"I love this fic. Keep it up!" – Sethisto (on the EQD page)
"From it's fantastic character development of Twilight and fast pace and exciting action, The Sword Coast is an excellently written and well thought-out story." – Amy Clockwork
Side stories: Tales of the Sword Coast
Sequel: Shadows of the Crystal Empire
Warning: Comments contain spoilers. Proceed at your own risk.
Chapters (20)