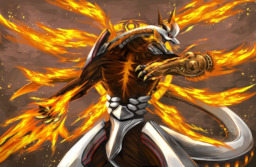 Source
"They arrived, like angry, voracious gods from on high, and all but destroyed our world. We did not simply roll over and die however. We remained strong, we survived, we adapted...
...and we found the means to fight back.
Hearken to my words, fair citizens of Equestria and beyond! Today is the day we stand our ground! Today is the day we say 'no more'! Today is the day we take back this planet from the beasts that would see it consumed!
Today is the day we devour the Gods!"
~H.R.H. Princess Luna (2031, Lamnis 23) Founding of the Daeus Hunter Defense Force, Speech presented at Wendigo Corporation HQ, Canterlot, Equestria
---
MLPxGod Eater Crossover/Adaption
Note: While helpful, knowledge of the God Eater games/anime is not required.
Chapters (33)