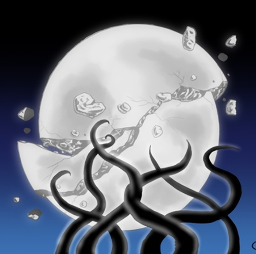 Source
This story is a sequel to Life is Magic
---
In what feels like an instant, we lost everything.
We were happy, unsuspecting, peace-loving creatures caught up in something beyond our control or understanding. There was no way we could've prepared ourselves for what was to come, let alone do anything to stop it. What was supposed to be the celebration of the Sun we all love and revere, became a horrific whirlwind of violence and fear and insanity. And that was when our world changed—when we changed.
In the aftermath of the Collapse, nothing remains but monsters, madness, and the scattered remains of a peaceful age now lost to us—or so we thought. But in reality, there is still hope for something better. In the all-consuming darkness of this new era, the embers of Harmony still exist. The light is small, but it burns with a resilience that will not allow it to be snuffed out so easily.
All that's needed is a spark—something to stoke the embers into a roaring flame that will bring us out of the darkness and back into the light of Harmony once again. In the aftermath of the Collapse we are lost, we are suffering, we are cursed but not all of us are without hope.
Chapters (7)