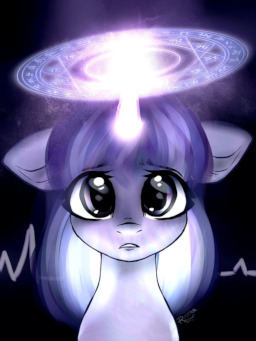 Source
I have been branded a criminal for a crime I have no recollection of committing. The transgression of which I'm accused is evidently heinous enough that my friends, my family, and the rest of Equestria have turned against me. I want to say that I didn't do it, that it wasn't my fault, but I can't. The only thing I can say in my defense is that if the deed was truly done by my hoof, then it was done due to circumstances beyond my control.
I say this because I can't remember. I say this because I'm not allowed to remember. I say this because my mind is no longer my own. It belongs to the voice, you see. It crawled into my head one day—poured cruel and malicious words into my brain. I tried to fight it but it grew and grew and grew until was powerful enough to seep into my memories, my limbs, my magic. Now it won't let me go. It's taken my mind and body away from me. It does terrible things and hides the truth from me.
I am not mad, but under these circumstances what else can I do but plead insanity?
---
The events described take place before Season 1.
Chapters (8)