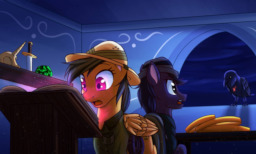 Source
This story is a sequel to Ponyville Noire: Misty Streets of Equestria
---
Daring Do and Phillip Finder have faced many foes since they partnered up. They have defeated the blackmailer Silvertongue, the pirate Whitestone, the femme fatale Scarlet Letter, and the monstrous Zugzwang.
But now another foe comes to haunt Ponyville. Many thought that the Plague Doctor was nothing more than a myth born of the horrors of the Crystal War. Others know better, fearing the name of Sombra's most dangerous assassin.
And now he's in Ponyville.
While they are stalked by the assassin, Daring Do and Phillip Finder must also unravel the thefts of magical artifacts masterminded by the archeologist-turned-mercenary Doctor Caballeron. And worse, enemies from their past return to torment them and their friends. Who is guiding them? What is their goal?
And what ancient evil is waiting in the Everfree Forest?
---
Updates every Saturday. Proofread by Eagle—Paladin of Shadows
The fourth story of the Noireverse.
Sex and Gore tags for suggestive content and graphic descriptions.
Chapters (49)