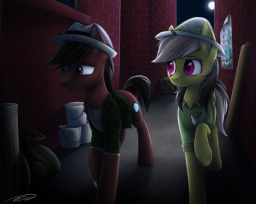 Source
Ponyville is one of the largest cities in Equestria, a center for trade and finance, a melting pot of many races, tribes, and cultures. It is also a place where corruption is a way of life. Here, the cops that aren't on the take are forever chasing their own tails, citizens live in fear, and gangs battle for control of the streets.
Daring Do has just been released from prison after a year-long sentence for thievery, and no one is about to let her forget her place. Phillip Finder is a local private detective and the bane of the Ponyville Police Department. The new partners quickly find themselves at ground zero of a city-wide gang war; surrounded by dirty cops, mobsters, assassins, and bizarre crimes, they can only rely on each other and a few honest ponies for aid.
They're hardly heroes. Which means they may be exactly what Ponyville needs.
---
Updates every Wednesday. Proofread by Eagle—Paladin of Shadows
The first story of the Noireverse.
Sex and Gore tags for suggestive content and graphic descriptions.
Check out the theme music by The L-Train by clicking here!
Featured on 1/29/18! Thank you all so much! <3
---
A bit of background...
Three years ago, I introduced Phillip Finder in my first fanfiction, "The Pony in the Gray Trilby." Over the next many months, I kept writing and eventually turned my first work into a twenty-story series. I learned much and enjoyed the stories' moderate success, but unfortunately, I became dissatisfied with them over time. I realize that it's perhaps a bit of a cliche that many artists end up hating their own work, but for both Tchaikovsky and myself, it is the truth.
I initially planned to write this story as a prequel to the series, focusing on Phillip Finder and Daring Do. But the more I thought about it, the more I realized that I wanted to improve upon my work, but felt as though I was being held back by the original series. While I am proud of my first stories for what I learned and gained through them, I decided that the best course of action for me, what would make me the happiest, would be to wipe the slate clean and start again from the basic foundations.
That's where this story comes in. A semi-reboot of the original series, the adventures contained herein, set in a vastly different alternate universe and replete with a mixture of reinterpreted and original characters, are the culmination of all the experience that I gained writing the original series. This is Phillip Finder and company as I meant them to be.
I hope that you enjoy reading this story as much as I enjoy writing it!
Chapters (63)