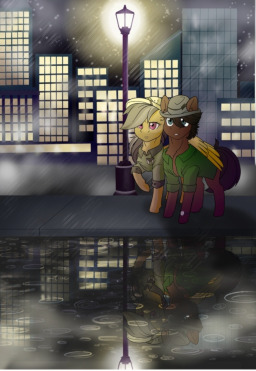 Source
This story is a sequel to Ponyville Noire: Kriegspiel—Black, White, and Scarlet
---
Zugzwang is dead, Scarlet Letter is in prison, and Ponyville is safer than it has ever been before, the once invulnerable crime syndicates in fragmented disarray. But Daring Do and Phillip Finder still dream of the red sky and the empty black eyes; Trace's dying scream echoes in their ears when they try to sleep, and they feel Zugzwang's ghost haunting them.
But even as they struggle with their demons, more cases come to the doorstep of 221 Honeybee Bakery. And as hard as it is, Phillip and Daring cannot turn away from those in need. Dragons in Canterlot, changeling intrigue in their own hometown, murder in the Crystal Empire, and treasure hunts in the Aushaylian Outback: these new, fantastic cases will take the detectives on strange journeys across Equestria, introducing them to new allies and friends. And maybe they will find peace along the way.
---
The third story of the Noireverse, this smaller series is intended as a sort of coda to the previous story, Kriegspiel. As I prepare to plan out the next major story of the Ponyville Noire series, I decided to write a few shorter cases to keep the gears greased. The purpose of this story is primarily to introduce some new characters and locales to the Noireverse, but also to show Phillip and Daring dealing with the trauma of what they went through in the last story: all things I wasn't confident I could do well in the next big story, considering what I have planned for that.
I hope that you enjoy this work!
Featured on April 2, 2021! Thank you all!
Updates every Saturday. Edited by Eagle--Paladin of Shadows!
Chapters (45)