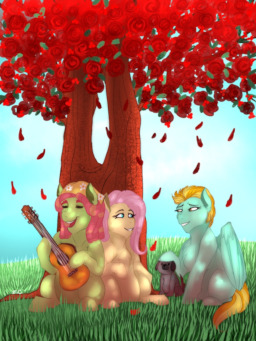 Source
When the citizens of Ponyville's Everfree District need their animals cared for, they turn to Doctors Fluttershy and Tree Hugger, veterinarian and herbalist. The two are famed for the kindness and care; something of a rarity in the Everfree District, where poverty and drugs have infiltrated every street.
So when the two notice that Lightning Dust is struggling with a drug addiction, they decide to help; it's their job, after all. But helping the proud mare with a problem she doesn't want to admit she has is not going to be easy, especially since there's more to this diagnosis than simply addiction.
There is no straightforward cure for all hurting mares. But with a bit of love and care, perhaps Fluttershy and Tree Hugger can help Lightning Dust get what she needs.
---
A side story of the Noireverse, this mini-project of mine is intended to focus on Fluttershy and the lives of the ponies in the Everfree District, as well as introduce my version of Tree Hugger and Lightning Dust to the series. Plus, Flutterhugger is a personal favorite ship of mine, and I wanted to write something about it.
This contains several references to the Noireverse at large: it's best if you're familiar with the Ponyville Noire series before reading this.
Edited by The Red Parade!
Cover art done by Anxiousshadowpetals!
Chapters (4)