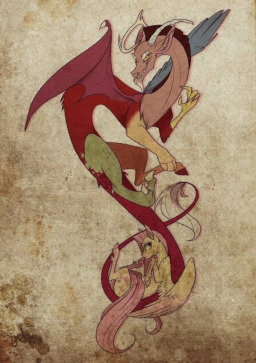 Source
A lost prince and princess, A corrupted forest, and a strange unknown magic.
The royal sisters are at war, a battle thats been raging for a little over 200 years.
And Every 10 years a mare is chosen to live with the Lord, Fluttershy is one of the few in the small side of Equestria that has been born under the year of Chaos, when she finds herself of age to be selected will she be chosen? or are there bigger things to fear than that of the rumoured immortal and powerful beast that protects the valley and looks to restore peace in Equestria.
WARNINGS:
There will be NO prologue, you will find out everything throughout the story.
sex tag for sexual themes, suggestive content and one or two detailed scenes.
narcotics tag for suggestive themes relating to one of the characters.
violence, death and gore are imminent, however I will try to tone down the gruesome parts.
Suggestive age for reading: 16+
TEMPORARY COVER ART BY: https://www.deviantart.com/probablyfakeblonde/art/Fluttershy-and-Discord-537175607
Chapters (12)