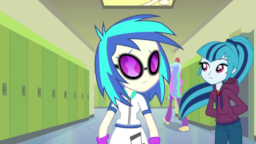 When you try and use dark magic to take over Canterlot High, it never ends well.
The Dazzlings lost their powers and were thoroughly embarrassed by Sunset Shimmer, Princess Twilight, and company.
For Sonata, it didn't get much better. Fed up with her inherent ignorance, Adagio takes her frustrations out on Sonata, and kicks her out of the group. With nowhere to go, she winds up wandering the streets. Luckily for her, she wandered into the right place at the right time.
She'll be borrowing someone's kindness for a while.
Will Sonata be able to atone for her mistakes?
Will she be able to make friends?
Author's Note: Originally, I planned to entirely change this. But I realized this provides me with a beautiful opportunity. A chance to explore a world of what-ifs. Sonata being saved by Vinyl after the Battle of the Bands could change the entire timeline from here on out. Let's go.
Chapters (3)