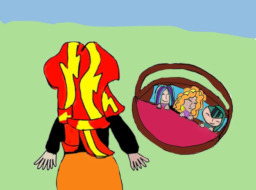 The charade was over, the Dazzlings defeated, and CHS and Equestria saved from annihilation.
Since their defeat, Adagio had decided to throw in the towel and give up her remaining life. By singing a song they had kept safe with them, The Dazzlings managed to remove all of their memories and age, and begin a brand new life. Hopefully, these second lives would be a lot better than their previous lives.
By singing their song, they transformed themselves into newborns and sent themselves to the only person who would be willing to help them start over: Sunset Shimmer...
[Disclaimer] Slight Spoilers for Rainbow Rocks. Don't read this story if you don't want to be teased.
The new cover art for this story comes from a very generous writer/artist called keam. She was generous enough to lend a picture to me. You should go to her page, thank her, check her stories out and give her lots of love and support. Thanks, keam. You've been a big help!
There's also some essence of SunLight in this later on, nothing too extreme, just Sunset and Twilight sharing some deep moments together, that's all.
Chapters (25)