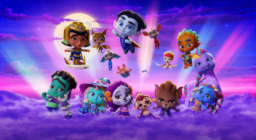 The Rainbooms find themselves on a field trip for some extra credit as their graduation day draws ever closer. With a long drive ahead of them, the girls all set off for a little town in the woods called Pitchfork Pines.
But Pichfork Pines is no ordinary town. And the children they are about to see are no ordinary kids...
Equestria Girls x Super Monsters crossover. Enjoy!
Chapters (1)