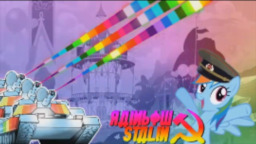 Ponyville. A wonderful place where Equestria's greatest heroes live. A place where everypony is free to be themselves and enjoy their lives.
And then we get to the tanks rolling down the streets and the aeroplanes roaring over the heads of every non-pegasus pony.
What in the world did Twilight Sparkle wake up to?
---
(And what in the world have I just created for you all?)
(Cover art came from Ponies: The Anthology 7. Namely, a clip in said anthology.)
Chapters (1)