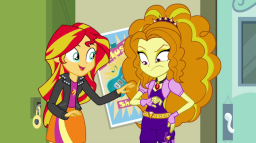 Source
Adagio and the others accidentally knocked out Sunset Shimmer. Now they have to masquerade as her to avoid another rainbow blast.
Since they are the closest in hair color and Adagio is a sly fox, she must pretend to be Sunset on the free day of the Mane 6.
Meanwhile, Sonata and Aria are trying to revive Sunset as time goes on.
Chapters (1)