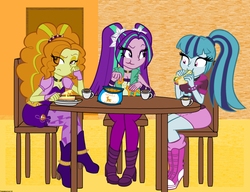 This story is a sequel to Sonata Time
---
After Sonata helped her fellow sirens from being homeless. They are know going to Canterlot High.
As Sonata enjoys her new life with her friends Adagio is hiding a dark secret from both Sonata and Aria.
On top of that Sunset Shimmer tries to befriend Adagio. Will Adagio accept this friendship?
Chapters (9)