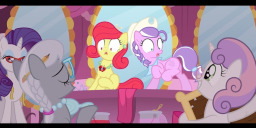 Since the dawn of Equestria (Season 1) There has always been a conflict raging through the land, the conflict of cowpony against higher class.
Somethings about this silly little feud cannot be said, but more so written down on paper.
But not today!
After taking enough abuse from Diamond Tiara, Applebloom gets a very interesting idea going in her little head. A challenge to see who wears the other's style better.
After some encouragement from Silver, Diamond reluctantly accepts said challenge, and gets a new perspective on life. But only for a short time.
The pic comes from Drawfriend Stuff #1162 on Equestria Daily. I had to scroll past a lot of badass Tirek pictures to find this.
Chapters (8)