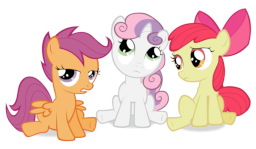 When Cheerilee puts adventurous Scootaloo with fraidy-pony Twist, shy Sweetie Belle with outspoken Silver Spoon, and complete opposites Apple Bloom and Diamond Tiara, the Crusaders don't think it could get any worse. But while working on the project, the pairs get stuck in a snowstorm.
It's not the sleepover they want.
However, they might end up with a whole new perspective on their opposites.
Chapters (4)