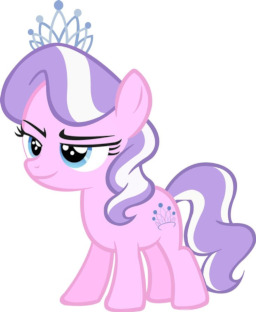 After her confrontation with her mother, Diamond Tiara's life outside of the home has been much easier. She's made friends with her classmates, got some respect from the town, and got Silver Spoon's friendship back. Unfortunately, her mother, Spoiled Rich, is still as snobbish as ever. After meeting up with the CMC and overhearing about one of Applebloom's potion experiments, she gets an idea of how to solve some of her problems.
It certainly helps that her Mom's birthday is coming up.
---
This story was written by request of superfun, and the main plot is their idea. They have, however, given me free reign over how it all goes, as long as certain details that shall remain undisclosed are met. I would also like to warn that there will be a bit of a delay before the next chapter can be posted, due to life kicking my butt. So please, enjoy the story as it updates in a hopefully on time fashion, and have a wonderful day.
Chapters (1)