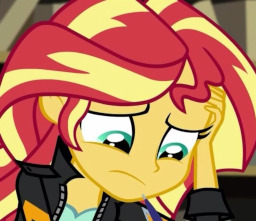 This story is a sequel to Sharing Beat Up Stories
---
Sunset Shimmer has had a busy month.
From an admittedly stupid cyberbullying attempt that somehow worked to her friends equestrian counterparts coming over to kick their own butts. Even finding someone from the human world stranded in Equestria to Twilight's counterpart ripping several holes in reality and probably leaking magic like no tomorrow into her homeworld.
All within the span of four weeks!
That being said, she's ready for a break. So, after a moment of nostalgia and reflection alongside her friends, she decides that their idea for her to take a vacation back home for a spell might be a good idea. She could even check to see how her dad was doing! After all, she did vanish quite a few years ago, so he probably would like to know she was at least okay.
So why did she have this foreboding feeling about it all?
---
And this is where we diverge from the canon story of SunShim's adventures. Does this mean Camp Everfree is a no go? No, it still will be a thing for Sunbutt Jr. to face later. There's just going to be this story between then and the last story's events before it swings back into the right lane. (probably the only reason there's no AU tag on this yet.) It may be a good idea to read the prior stories first, but I will try my best to make it not required to understand all of this.
That being said, please enjoy!
Edit 10/7/18: WHY DO YOU ALL KEEP GETTING THESE INTO THE FEATURE BOX!? I AM NOT THAT GOOD OF A WRITER!
Chapters (24)