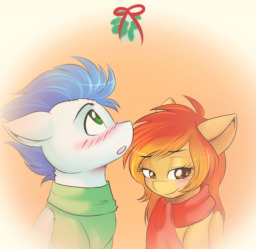 Source
To say that Hearth's Warming Eve among the Wonderbolts is a boisterous event would be an understatement, and this year is no exception.
But amongst the noise is Spitfire and Soarin. Friends since foalhood, they have taken this day out of every year to reinforce and celebrate their friendship, to spend some time together, just for the two of them. And this year is going to be no exception.
Except perhaps for the intervention of one of their teammates.
Special story requested by lambda as part of my birthday story giveaway.
Chapters (1)