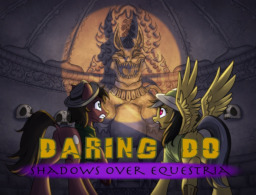 Source
Equestria is not the paradise that most of its citizens believe it to be. Dark secrets hide behind facades of innocence. Hungry monsters stalk the shadows and walk among the people. Cultists practice forbidden magic in the name of slumbering gods, and an ancient evil is stirring from below.
Daring Do, Professor of Archaeology at Golden Oaks University, has known the impossible exists since she was a foal, and it has held a dark hold over her ever since, guiding a search for answers. She is joined in her search by other creatures whose lives have been touched by the paranormal: Phillip Finder, a private detective who specializes in abnormal cases; Zecora, a shaman with her own demons; Luster Dawn and Twilight Sparkle, two of the brightest and most curious students at Golden Oaks University; Rainbow Dash, a rookie Wonderbolt with a thirst for adventure; and Autumn Blaze, a kirin journalist on the hunt for the juiciest stories.
But as she continues to hunt for answers to questions most would never ask, Daring Do finds herself and her allies ensnared in a tangled web of insanity, facing threats to body, mind, and soul. Obsession drives Daring Do forward, both to seek knowledge and to protect Equestria from impossible threats...but what might it cost her and those around her?
---
A reboot of sorts of my former series Ponyville Noire, Daring Do: Shadows Over Equestria is an adventure-mystery story with heavy influence from the Cthulhu Mythos and related spinoffs, particularly the Arkham Horror franchise. It features many of the same characters but under different designs and inspirations.
Cover art by Redahfurerking!
Proofreading by Jade Dawn, Eagle--Paladin of Shadows, and TheLegendaryBillCipher !
Chapters (13)