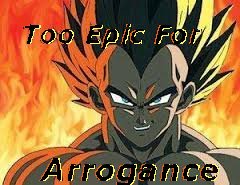 "My Name, like many others, is no longer important. Because who I was, and who I am is like looking at water, and fire. So, I abandoned that name, and took another, Vegeta... So tell me, have you a name?"
The pain of lost friends is staggering, the guilt of a lost family is crippling, the devastation of a lost rival? Crushing. Hilarious, but cruel is the story that lays before you, edginess and epicness in equal measure. Begining at comicon and ending in the blood of his enemies (and possibly the Lamentations of their women), of course if he can figure out who he's sposed to fight. Though udoubtibly these words scribbled on the discription of a story stuffed into the darkest corner of a website, that is In turn, stuck in the darkest corner of the Internet, has left you with many questions, before you continue, I have a question for you...
Are you ready for the super saiyan swagger?
---
This is a LoHAV/H and HIE story.
Have thoughts, suggestions, criticisms? Feel free to post your thoughts!
If you favorite this story please like it as well.
Refrences:
The Black Knight - Zaralann
The Mighty Warrior of Epicness - Shinigamisparda
The Gravity of the Situation - DJSkywalker
Warning:
Consistent language and Mild gore,
The following is a fan-based fiction, Dragon ball, Dragon ball Z, Dragon ball GT, My Little Pony,
Are owned by, Toei Animation, Fuji TVm Akira Toriyama and hasbro.
The OCs are mine though
Wait, this is in a game crossovers bookshelf? How did that happen?
Chapters (8)