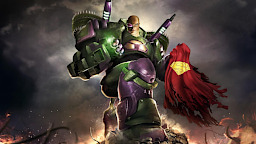 I heard the rumors and the tales of people Disappearing. I didn't pay it too much attention. Went to Comic Con as my favorite Character, you know the rest.
In a world with gods, spirits, demigods, magic and monsters you expect any cross player to have abilities to survive in this world. Well not this guy. He is Lex Luthor. A hero or a Villain it is up for debate. However there one thing this guy has. Smarts, and he knows how to use them.
A displaced tale using one of the greatest Arch Enemies in all of fiction.
Chapters (2)