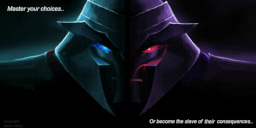 It was the first time that I ever cosplayed.
Anyway, where was I? Oh yeah, last I remember is a flash of light and suddenly I'm in Equestria.
AND I'VE BEEN A FUCKING STATUE FOR THREE-THOUSAND YEARS!
But now I'm back... and that pretty white faker of a ruler is gonna pay...
for I
am...
MEGATRON!!!
Edited by GS4
Chapters (2)