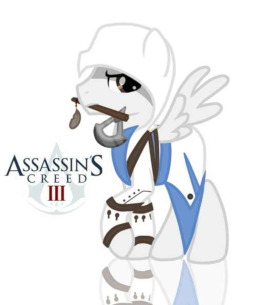 Warning! Takes place After Assassins creed III. Contains some spoilers if you didn't play or finished the game!
Image is not mine, but i give credit to who ever made it! and yes Connor will look like this in the story.
First few chapters takes place before the start of season one!
Disclaimer: the characters and the references in this story belong to their respected owners!
Edit: Dark and Gore tags have now been added for future chapters just incase.
Basically, Connor is in Equestria.
Its not much of a description, but the story is good i can tell you that.
the story will speak for its self once you read it.
Rated teen for mild language, mild blood, violence, action, some random chapter comedy references during certain chapters(probably)and the main characters hunting skills on wild animals to hunt(not too much of it).
Enjoy!
Edit: I now have an Editor named Drakalian. You'll see his name next to chapters from now on as the chapters are now edited and fixed. Here's the link to his profile to check his content and if you need his services. https://www.fimfiction.net/user/154991/Drakalian
Chapters (24)