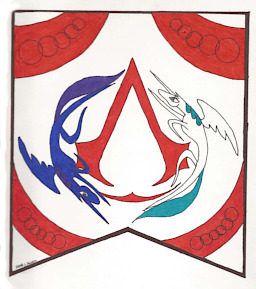 "I did my obligation. And now my son must complete his. But not in the world we are from. Here, he must do what others will fail. I have no fear in him failing this task that not even gods could succeed in, I fear what he will lose at the end of the road. Friends, family, love?"
"But I will succeed. War, death, life, family... nothing will stop me from saving everything. Its what I must do, because only I can. Everything is in this gamble. Lose it all, or lose a little to save everything else! But what will I lose?"
--------
This is a cross over of the Assassin's Creed games (if you couldn't tell). And is based after the (Connor's, not Desmond's) events in Assassin's Creed 3.
Any ANYTHING that's in this story that I did not create belongs to their rightful owners and creators. This is a fanfic for entertainment of others and myself in writing. NOT TO MAKE PROFIT!
Cover art done by me. (Wish I did a better with the lines though. Still, some cover art is better then none.)
Special thanks to Fat1thatyoulove for being my proof reader/editor. (Chapter 4 - )
Also. I'm a novice writer. I have no plans on making this a major part of my life. I like coming up with stories, which is why I'm wright this.
Enjoy!
Chapters (10)