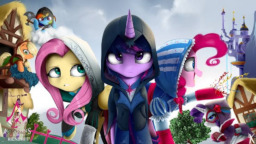 After beating the Templars, the Apple of Eden explodes and takes Ezio to the outskirts of Ponyville, which is the front line where the Assassins and Templars fight regularly in a war for Luna and Celestia, respectively. He can't catch a break, can he?
A collaboration with RCharge. Go check out their stuff!
EDIT: 27/02/20 I can't believe it! This story got featured after six hours of existence! Thank you all so much!
EDIT: 13/04/20 Oh my god. This is amazing. It's been featured again! Thank you everyone that reads this story!
EDIT: 17/09/20 It took all of ten seconds for this to get featured again. Wow, thank you everyone!
Chapters (8)